Frequently Asked Questions about Weddings at The Mudcastle
1. Bar tab protocol
Q 
"I'm  just thinking about the bar at the moment and wanted to bounce a few ideas off you, i would love to just have a completely open bar but i don't think our budget can stretch to that, since i've been gone for 10 years i'm a bit out of date with kiwi do's and don'ts, is it normal to have a cash bar at a wedding? i've been to three weddings in nz and all were free bar but they were in rugby clubrooms etc not hotels, i just thinks it a bit cheeky making people pay for their own drinks but here in the UK its the norm. Another idea was instead of wedding gifts, have a donations jar on the bar for guests to contribute to their drinks, but the downside is some people may be offended by this?? or maybe subsidised drinks, 1/2 price to the guests and we pay the rest...what do you think and do you have any other ideas? what do the majority of your other weddings do? I will defo put wine on the tables, but a lot of the guys will drink beer, i'm defo not having a open bar including spirits, maybe a non alcoholic punch will keep the costs down also."
A
"What seems to be the most common and successful system of protocols around the handling of the bar (and what we recommend) is as follows: 
Firstly, it is no longer the norm (or expected) that there is a bottomless bartab at a wedding and everything will be free to guests.
We suggest that you put a designated amount on the bar that we work to. If that figure is reached, we will come and talk to you and you can decide whether to put a bit more on or make it PYO (pay your own) from there on. I personally think this is a simpler way to go than the donation jar idea or subsidising drinks.
We suggest that you open the bar after the ceremony not before. 
We recommend that you have a non-alcoholic fruit punch available which is able to be self-served throughout the evening.
We suggest that you allow guests to toast with a drink of their choice rather a mandatory glass of bubbly. This keeps costs and wastage down. As quite a few people don't even like bubbly, we often find they tip it in our potplants and they don't like it either!
We strongly recommend that rather than have pre-opened bottles of wine on the tables, allow guests to take a bottle to the table if they wish and when they know who is drinking what at their table.
Rather than excluding spirits altogether, there are a few people who only drink spirits so we suggest that you make them available but at guests' own cost. It's best to include this in the invitations so guests know to bring money or an eftpos card etc." 
"Thats great Glenys, thank you, how do you think i should word it on the invites tho, to make sure people bring money...just say 'beer and wine will be supplied with the meal' and just hope they bring some money for later on (or for spirits)..."
"What about something like: 
Please note that beverages will be provided at our cost until our bar tab runs out.  A cash bar will operate for spirits and any additional drinks required. "


 2. High Heels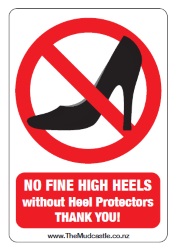 Q
A couple of guests are asking for exact measurement for the heels width that won't damage the floors – can you let me know?"

A
"Anything wider than 25mm is usually fine and there is always the low cost option of heel protectors for finer heels. These are available online or from shoe stores.
3. 
Seating Plans
Q 
"Are you able to tell me how big the table easles are? So we can work out what size card to use for our table names."
A 
 "The ledge of the table number easels is 12 cm across and the height of the tallest part of the back is 15.5 cm so anything within this for your table names would be fine."
Q 
How many would you recommend we seat at each table?"
A
The guest tables are 1.2 m circular so 6 guests around them works best but we can seat 8 (still with no one having to straddle a table leg) if your seating plan works better that way. Often you'll find there is a combination of all sorts of numbers ranging from 4 - 8, particularly when there are single guests to find places for so don't worry if some of your tables have uneven numbers on them."
Q 
"At the moment it will look like around 85 guests. With a bridal party of 8. So How many tables will be needed for the reception? Or do you have any suggestions of how the room will be arranged to fit that number? If you could send me through a plan so i can start arranging the table seating plan."
A
"Firstly, does the 85 include the bridal party numbers?
Re your seating plan, my advice is to start by
a) grouping your guests (working on no more than 8 if possible at any table) and
b) putting 3 tables if possible in the front row (in front of the bridal table) as this is the widest part of the turret. You could put immediate family on both sides on these tables, including siblings, or you may want to include elderly godparents or neighbours who have been a big part of your life here - entirely your call. 
After that first row, we will position the tables in the formation that best allows for guests to see the bridal table and staff and guests to move around from table to table. For this reason, don't try and draw up the plan pictorially using circles - just use Table 1, 2, 3 etc.(or whatever you want to call your tables) and a list of guest names for each.
 4. Children & Highchairs
Q 
"What age should we include children into the seating plan for the reception?"
A
"Rather than go by age, I recommend that you are guided by the children's parents. If they think their child can manage a chair, then include them in the seating plan as if they were an adult. If the parents prefer to bring the highchair the child is used to sitting in, then include a place at the table for this to be put and just advise us so that place setting is not set with full cutlery etc. If the parents would rather we hire in a highchair for them, we can do that too."
5. Placenames
Q 
"We are doing our own placenames, so just wondering when we will be able to drop them off? (Eg: The day before?)"
A
"If you are coming for a rehearsal, it makes sense to schedule some other tasks like putting out your place names etc. However, availability for additional access to the venue to be booked is dependent on other guest bookings. Something else to remember that there are sometimes last minute guest changes so leaving this task to the day is often a wise decision so that it's not a major job to reorganize the place names you have already laid out."
6. Viewing of Venue by Photographer
Q 
"My photographer would like to come out for a little look if he can before the day, as he is from Sydney & that would be his only opportunity. He just wanted to scout out some good spot for photographs as there won't be a lot of time on the day"
A
"That's very sensible and not usually problem – it's just dependent on other function bookings or guests being in residence. Frequently a visit for a new photographer is co-ordinated with the rehearsal trip if one is booked. This gives an opportunity for the photographer to run through protocols and expectations with the celebrant also."
7. Curfew
Q 
What time does the castle stay open till. When do we start sending people home?"
A
"We are fortunate in living in the country that we have no neighbours close by (so no noise control problems and no early bar closing requirements) but it is a long and emotional day for everyone so most weddings start to wind down around 11 pm - midnight. We find that those staying overnight then either carry on dancing or sit down and relax over a quiet drink while we carry on clearing up and this works really well."
8. Babies & Portacots
Q 
"Is is ok that a couple of our guests will have babys staying the night. I think they'll be bringing portable cots for them so extra linen is not needed. Will it cost us extra?"
A
"No, there is no extra cost for babies if the parents are bringing their own portacots. And the babies seem to sleep better in something they are already used to (and that's good for everyone!)."
9. Extra Night Accommodation
Q 
"If some of us also wanted to stay the night before in the Mudcastle, is that OK? And if so, can we still get the special wedding rate?"
A
"Subject to availability, it's absolutely fine that you can book to stay the night before also. We just have a couple of requirements – guests the night before need to stay in the same room on the wedding night to eliminate the need for a full linen change on the day of the wedding and we just do a continental breakfast or a pancakes and croissants breakfast on the first morning. There is an even better special wedding accommodation rate that applies for booking the accommodation for an additional night."
10. Additional Guest Accommodation
Q 
"Where is the nearest B&B, guesthouse or motel that you recommend for our other guests that will not be staying at The Mudcastle with us?"
A
"We have a list we can send you of accommodation options close by if we cannot accommodate everyone who needs a place to stay. Often accommodation only can be arranged elsewhere and your guests can join you at The Mudcastle for breakfast at the time you have arranged with us."
11. Confirmation Of Final Numbers
Q 
"I am also wondering when you would need final numbers by?"
A
"Final numbers are usually provided at the start of the week of the wedding so that the caterer can finalize food quantities and the dining room set up instruction sheet can be done."
12. What don't you do?
Q 
"We really appreciate all of the extra services you provide but can you please let us know what things are our responsibility to do?"
A
"The three services we don't as a rule provide are:
installing the decorations that you provide yourselves. For example, if you are supplying your own table centrepieces. We will have the dining room set ready for you to decorate as you have envisaged at a time that both suits you and accommodates any other bookings we may have.
making the seating plan itself and setting out the place names in the settings.
setting up the wedding cake."