Our Wedding Couples News
If you are one of our wedding couples and have some news you'd like to tell the world, just tell us and we'll pass it on!
May 14 2008
Alison and Nigel Whitton
Alison emails to say that Nigel has won the contract for the refit of the Lady Barbaretta - Sir Richard Branson's catamaran. It's a BIG job.
For more info Nigel regularly updates his website - see www.nwdesigns.co.nz
Woodworker finds dream job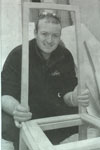 By Tom Hunt
Fresh out of a fine woodworking course, Nelson man Nigel Whitton has scored the ultimate job working on a $12 million boat project for rebel billionaire Sir Richard Branson.
Mt Whitton recently graduated from the Nelson Centre For Fine Woodworking's nine-month course but always intended returning to work aboard superyachts and use the skills he had picked up.
He had worked on superyachts for four years before coming back to Nelson.
To most, the idea of working in the Mediterranean wouldn't sound that bad but Mr Whitton said he wanted to stay near Nelson, and found out that Sir Richard's boat was laid up in Newcastle, outside of Sydney.
Today he was to fly to Australia to start work on the 32m catamaran Lady Baretta, which has been parked up for 18 months awaiting a complete $12 million interior refurbishment - a large part of which will come down to Mr Whitton.
He said the hull of the catamaran, which was as wide as it was long, was in good condition, but its previous owner had done a shoddy job of the upper-ship fit-out and it effectively suffered the same fate as houses caught up in the leaky house syndrome.
His job was to recreate the interior using sustainable wood, such as bamboo or maple, for the boat to be used by Sir Richard and his family.
He said Sir Richard regularly flew in to check up on the Lady Baretta, which he had bought for the bargain price of about $4.5 million.
Superyachts can fetch prices reaching into the hundred of millions of dollars.
Mr Whitton said this was Sir Richard's first superyacht and he would avoid the tacky decorations such as gold details - common on superyachts - going instead for an "eco-conscious" aesthetic and "open, contemporary design".
October 11 2008
Kylie and Ian Melse
Ian, Kylie and Jayden are proud to announce the arrival of Riley Ashton, 9lb 13 oz on October 11, 2008.