Swan Ice Sculpture available from The Mudcastle 
Now available at The Mudcastle or delivered to any venue in the top of the South Island.
Price includes GST but does not include freight/delivery charges to other venues. For example, we charge $25.00 to deliver a single large swan to Nelson, $50 for a pair.
Two week's notice is required for large ice sculptures due to the time required to make them.
Sculptures may be infused with a subtle colour of your choice at no additional charge.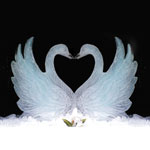 72cm H x 53cm L x 30cm W each $130.00 for one
28" H x 21" L x 12" W  each $250 for a pair