Romantic Honeymoon Suites at The Mudcastle
"Couldn't imagine having a honeymoon anywhere else."
Judene Edgar & David Verhagen
"Luxurious thank you we felt like royalty!!"
Gary and Victoria Poulgrian
 "A wonderful oasis of calm amidst so much to do. A gem that is hard to leave!"
Iain and Manami Forsyth

Our three honeymoon suites are unique and all different. Sumptuously decorated, they are fit for a king and queen.


The Peach Suite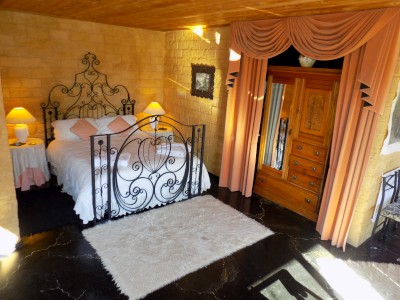 The Peach Suite is semi-detached and complete with an outdoor bath that is surrounded by fairylights.
Honeymooners in this suite can also enjoy an exclusive private swimming pool that spills down to a larger pool some distance below.
The Gold Turret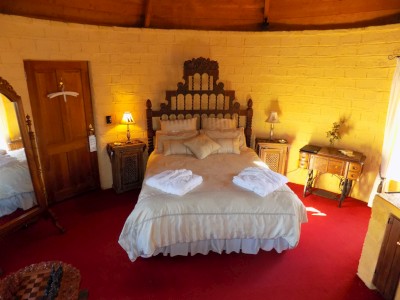 The Gold Turret is a 2 storey medieval styled retreat which stands apart, exquisitely appointed to capture the romantic imagination and pamper the senses. A circular staircase descends to a two person bathroom and a private balcony nestles amongst fruiting trees.
If Additional Accommodation is required Please Click here to view The Mudcastles Options
All Honeymoon stays at The Mudcastle are exclusive ie. no other bookings are taken to ensure your complete privacy.
Cost for an exclusive Honeymoon Night Package stay in a suite of your choice is $1595.00 including GST. This includes bubbly and flowers and some special surprise touches (which we will tell you about if you don't like surprises); our substantial breakfast brought to your suite at a time of your choosing the following day and a late checkout.
For those holding their weddings at The Mudcastle, a honeymoon suite night is included in the special accommodation price they are offered - however, our Champagne Package is available as a $50.00 upgrade for those couples wanting some additional special touches waiting for them in their suite after their reception in the castle.
For those bridal couples retreating to The Mudcastle for their honeymoon after their reception elsewhere, we may (depending on location) be able to collect and chauffeur you here in a classic car as an addition to our Honeymoon Night Package. Price for this service is dependant on the location of your wedding venue but is generally $100.00 for Nelson locations.
"As for the Mud Castle. It was divine! Kevin and Glenys certainly have a wonderful vision going there and we fully expect to come back in a few years to check out their progress. We found out on the Sunday morning that all sorts of crises were happening behind Glenys's calm exterior when she picked us up, but she never let it show! True professionals!!"
John & Michelle Sullivan
" A glorious start to our honeymoon - fabulous food, we'll definitely be recommending it everywhere - and a favourite in years to come"
Lynne Dunphy, Next Magazine
"What a wonderful place to spend our first night together as husband and wife - memories to last a lifetime"
Glenn and Katrina Oates
"With the great hospitality and luxurious suite, we had a fantastic wedding night. Thank you"
Fergus and Rachel Shirtcliff